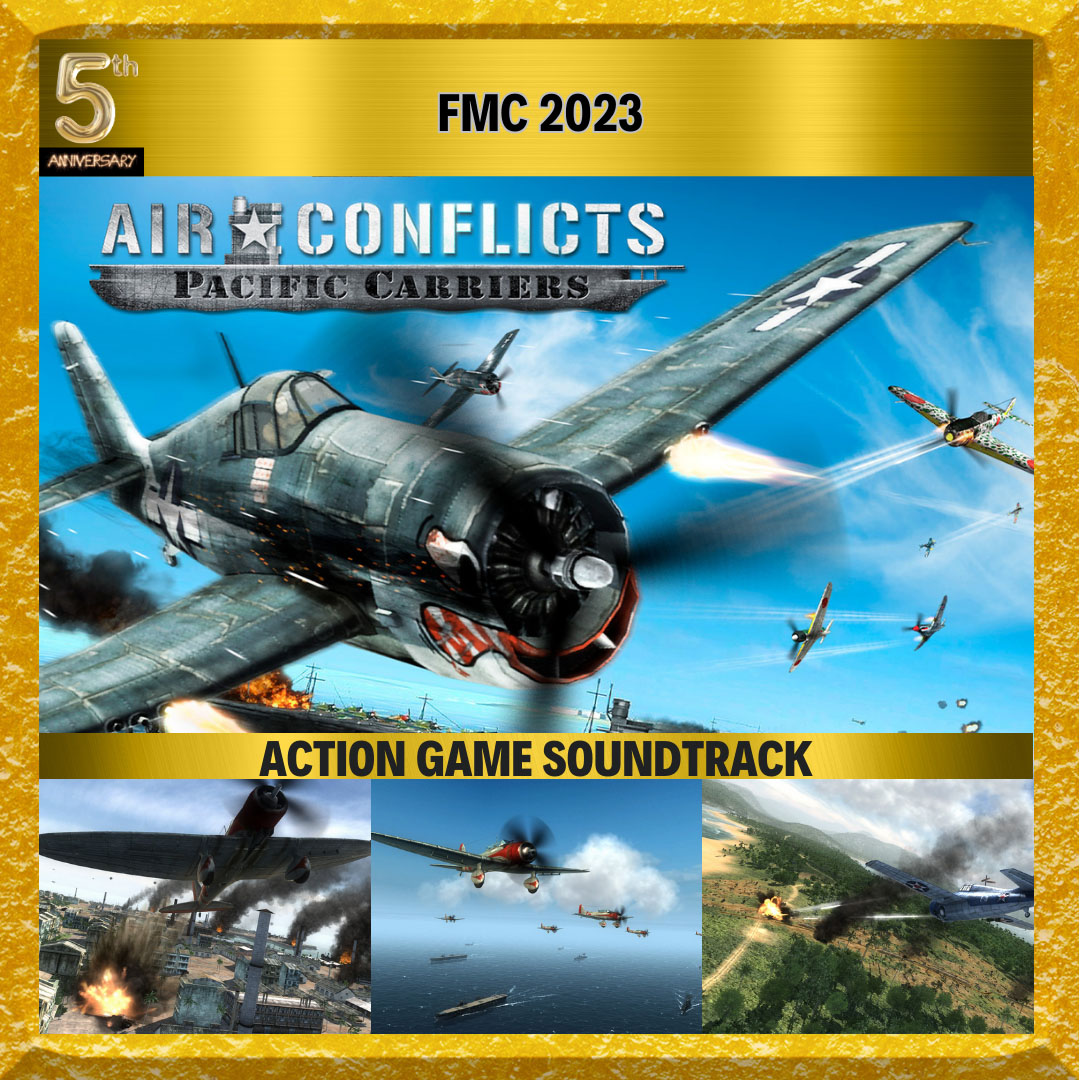 FMC alone gives you an exclusive opportunity to delve into the world of video games and expand your professional portfolio.
The successful Video Game Scoring category you entered previous years is BACK for this year's special 5th anniversary FMC 2023 as: Action Game Soundtrack.
This year, we have chosen for you Air Conflicts: Pacific Carriers a combat flight simulator video game set in the Pacific theater of World War II. developed by Games Farm, published by Maximum Games and bitComposer Games, and released on for Microsoft Windows, Xbox 360, and PlayStation.
Clean and fast-paced aerial action packed with mid-air battles in a variety of different settings, aerial conflicts of the time, taking place over infamous locations such as Midway, Pearl Harbour and Wake Island.
An exciting challenge and opportunity for all composers, musicians and sound designers. 
Compose music for a short (1:30 min.) dynamic competition video game sequence that has been prepared specifically for all competitors in this category.
For inspiration, check out the competition sequence without the score, which can be viewed here:
Attention all!  In celebration of its anniversary and fifth birthday, FMC 2023 is introducing an early bird discount. For the first month of registration only, you will be able to enter for a reduced competition fee of €27. Offer available until 1 July 2023.
All entry fees from the contest help support new musical talents, future composers, and activities for them organized by the non-profit GONG art company.
Register to FMC 2023 in a few simple steps
Prestigious International jury members working for Hollywood, European, Asian film studios, National TV stations, Netflix, etc. – CLICK HERE
FMC 2023 PRIZES International Press and Media Attention, Original Handmade trophies, Certificates – CLICK HERE
FAQ – CLICK HERE,  RULES – CLICK HERE
Watch the FMC 2023 Official Trailer – CLICK HERE
What the previous winners said about the FMC? – CLICK HERE
DEADLINE: 1.10. 2023 00:00 CET
Read more info about the Video Game and developing studio
Air Conflicts: Pacific Carriers combines authentic Second World War settings and a fictitious story that will lead the player through the Arcade-Flight-Action. The starting point for all the flight missions in the campaign is an aircraft carrier in the Pacific, which the player commands as the captain of the ship. The player decides at the beginning of the game whether to engage in battle under the flag of the US Navy or the Japanese Imperial Fleet. In Air Conflicts: Pacific Carriers the battles are also fought in the air, e.g. Pearl Harbor, Midway and Wake Island. Instead of individual aircraft, here the player can control entire squadrons and switch between them during the mission. Various single and multiplayer modes will guarantee long-lasting game fun.
About Games Farm studio
Games Farm is an independent game development studio with a team of more than 50 people. They specialize in developing premium cross-platform titles for PC and consoles with a portfolio of over 20 titles released to date. From a small unknown studio, Games Farm has evolved into a globally recognized RPG developer with renowned brands like the Heretic Kingdoms franchise and an ever-increasing roster of quality titles.
Games Farm's RPGs have received multiple awards. Games Farm's team consists of the best and most experienced development talent in the area with many previously working on AAA game brands developed by third parties.